This page is still under construction. Please check back to see this page unfold.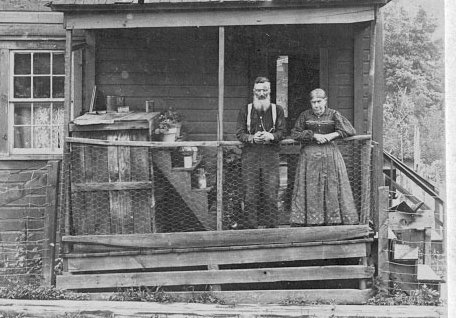 My Great-great Grandmother
This 1901 photo shows John Bowery (b. July 3, 1832) and his wife Sarah Jane Snowball Bowery (Oct 11, 1833), (my great, great grandparents), both originally from near Exshamoore, England. They immigrated to the US and settled in Belallir, Ohio, eventually moving to PA. They had 9 children: Annie, Mary, Thomas, Eliza, William, Geroge, Elizabeth, Isabelle & John F.Their daughter, Eliza (Elsy) Bowery (born Dec. 11, 1859 in Pennsylvania) married Thomas Woods Fletcher (my great grandparents). Their son, Thomas W. Fletcher (b. 1890) married Laura E. Conley (my grandparents). Their son, John Henry Fletcher is my father. Go to to see photos of Thomas & Laura and other family members,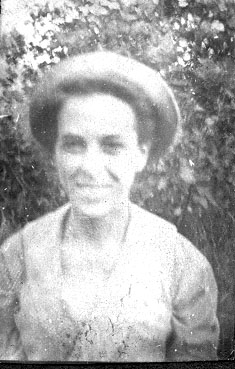 Mary Louise Fletcher Kingston, one of the daughters of Eliza and Thomas (the sister of my grandfather, Thomas W. Fletcher). She married Bernard A. KIngston (b.April 3, 1888). They had 9 children: Charles B. (b. April 30, 1912), Joseph W., Evelyn, Leroy T., George L., M. Louise, Sarah J., Raymond (b. Feb 16, 1907) & Waneta. They also had 26 grandchildren, 43 great-grandchildren and 2 great-great-grandchildren. Mary died on September 2, 1981. Bernard died Aug. 5, 1965.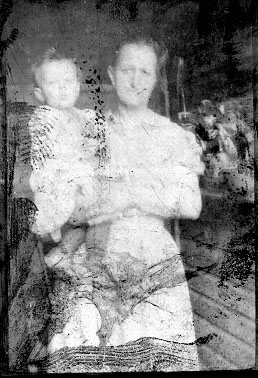 Eliza Bowery, wife of Thomas Woods Fletcher. As explained above, she would be my great grandmother. The baby she's holding is believed to be her grandaughter Kathleen Osborne, who she raised after Kathleen's father and mother died of flu in 1918. They also helped their son raise my dad and his 2 brothers after Laura Virginia Fletcher died.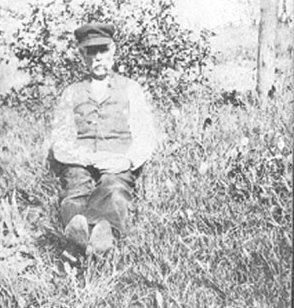 Thomas Woods Fletcher, husband of Eliza Bowery. As explained above, he would be my great grandfather. They had 6 children, John, Sarah, Mary Louise (b. Oct. 19, 1887), Thomas W. (my grandfather), James and George.

My Dad was born Sept. 17, 1914. He had two brothers, Thomas Lawrence (born Dec. 7, 1915) and LeRoy (born Jan. 3, 1918). His mother was Laura Virginia Conley (daughter of James and Katherine Conley (* see above). She was born July 10, 1892 and died Feb. 22, 1920, only 27-1/2 yrs old. His father was Thomas W. Fletcher born 1890.
When my dad's mother died he and his brothers went to live with his maternal grandparents, James and Katherine Conley. Grandma Katherine died (perhaps a year or two later?) but Grandpa and his daughter Julia continued to care for the boys until Grandpa James died around 1925 and Julia left for Utah. Then they went to live with his paternal grandparents, Eliza and Thomas Wood Fletcher. My father had an Uncle and an Aunt (John and Maude Conley) who lived within walking distance. He often stayed with them as he was growing up, altenating between families.

James and Katherine Conley, (mother of Laura Virginia Conley, my grandmother), were from Ireland. James Conley went to Canada from Ireland and then came to the United States when he found out Katherine was here. James Conley was born in 1840. He was a carpenter and a logger. He died in 1925(?).
They had 5 children, Kate (who married Edward Henry Taylor and had a daughter, Mabel), Julia (who went to Utah and married Mr. McDonald), John, James (who married Ethel E. Hollen & had at least 3 children: Lillian, Charles & Clarrissa, Thomas W. Fletcher's second wife), and Laura Virginia (my grandmother).

My Great-great Grandfather
Thomas Fletcher II (my great, great-grandfather) was born in Exshamoore, County Duriem, England. He was the son of innkeepers and a coal miner. He married Jennie Hinson, also born in Exshamoore, County Duriem, England. She was the daughter of coal operators and aristocrats. Her parents did not approve of her marriage to an innkeeper's son and disinherited her. They had 7 children: Matthew, Thomas Wood , born June 10, 1855 (my great-grandfather), James, George, William, Isabelle (married ? Wilkinson), Elizabeth (married ? Minto), and Grace (married ? Hopper). Their son,Thomas Wood (my great-grandfather) immigrated to the US in 1880 and settled in Stoneborrow, Mercer Co., Pennsylvania. He married Eliza Ellen Bowery (my great-grandmother) about 1885.

This is the story of how Laura Virginia Conley Fletcher died, as related by my father (her son). When he was around 5 years old, the family was going to visit grandma and grandpa Conley. It was a bitter cold, snowey (possible blizzard condition) evening. His father had rented a horse and carraige to take the family there. My dad's mom bundled the 3 boys up well and put them in the carraige. She was to wait for the next carraige to come. But instead she walked the distance through the bitter cold and snow (side note: she was pregnant at the time). When she arrived at her parents home where the family was, she was ice cold. My father remembers her sitting in front of the fire and her parents tried to warm her but she could not get warm. The next time my father remembers seeing her was when she was laid out in the casket in the front parlor (which was the custom at the time). They brought the children in to see her one last time. He seems to remember the baby in the casket with her, but my Mom says he is thinking of someone else. My father insists it was this instance. Possibly we will find out with more research.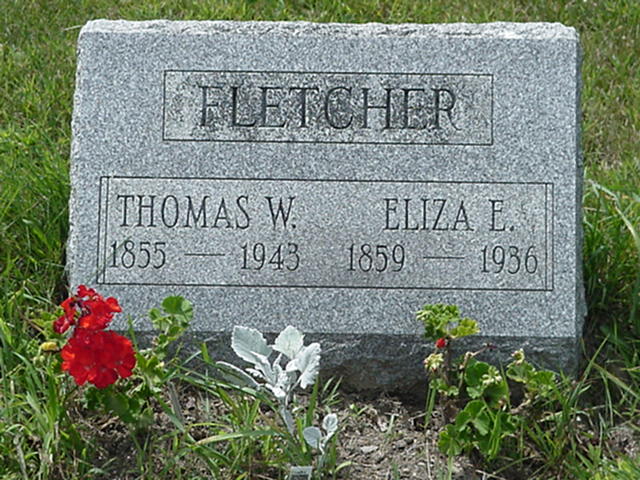 This is the tombstone of Thomas W & Eliza Fletcher. The cemetery was once called Snyder Cemetery, but it is now called Lyleville Cemetery. See cemetery sign to the right. As far as I can figure out, this cemetery is located on Coalport Road, Lyleville, PA in Clearfield County.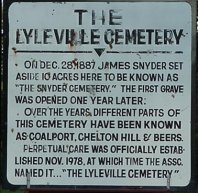 This is the sign at the Lyleville cemetery, formally known as the Snyder Cemetery

Thomas Wood and Eliza had 6 children: John, Sarah, Mary Louise, Thomas (my grandfather), James and George. This was Elizas second marriage. Thomas (my grandfather) married Laura E. Conley (my grandmother). They had a son, John Henry Fletcher who is my father.



The story continues on John's Page. See more family photos.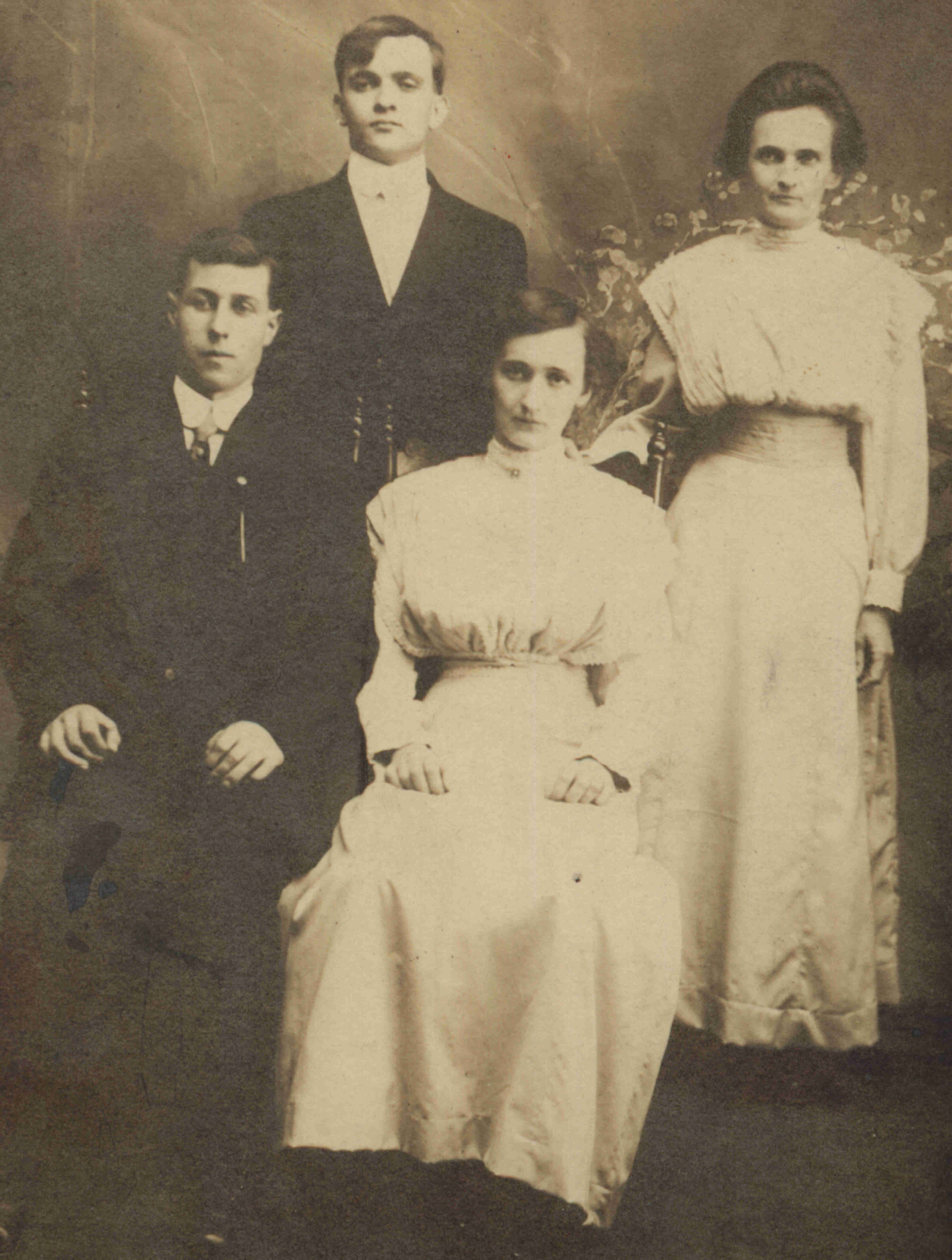 Sitting
Thomas W. Fletcher (my grandfather) and his wife, Laura Virginia Conley Fletcher (my grandmother).
Standing
John Conley (Laura's brother) and Maude Conley, his wife.
Thomas and Laura had 3 sons, John H. (my father), Leroy, and Thomas Laurence.
Laura died February 22, 1920. Thomas W. died December 1976,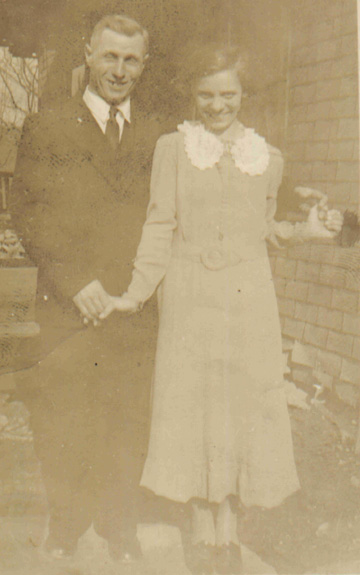 This is a photo of Thomas W. Fletcher (my Grandfather) with his second wife, Clarrissa Conley (the daughter of James and Ethel E. Hollen Conley).
They married March 20, 1937 in Roseland, PA. They went on to have several children: George, Chester, Ethel, Orveda, Barbara & Raymond.
Thomas W died in December 1976. Clarrissa died October 27, 1995.

This page was last updated on: January 1,
2004




See my Dad's brothers pages.