GOULDIAN CHICKS FROM EGGS TO FLEDGE.

THANKS TO, DEBRA L. MYERS, ERIN SALOMAA, AND PAUL ROBERTS
FOR THE PICTURES
ON THIS PAGE.

These Gouldian chicks are 7 days old. At this age, the beginnings of the tail and wing feathers are visible. At 9 days old, the back and flank feathers will be visible.
Close banding should be done at 7 - 9 days old.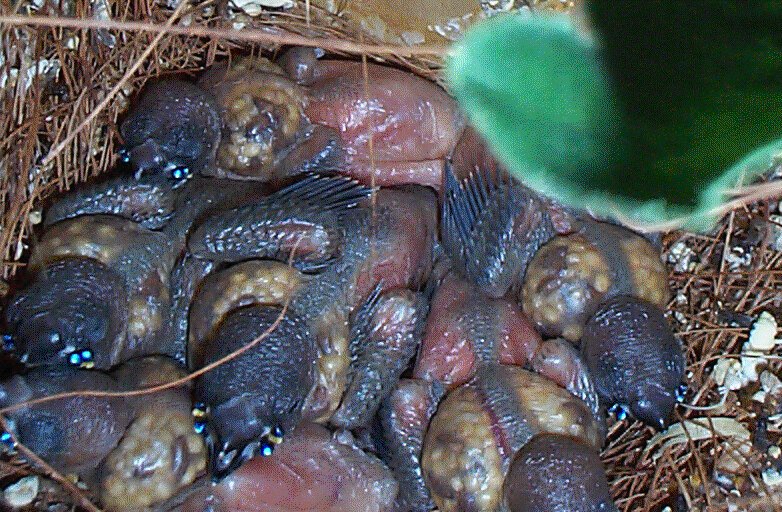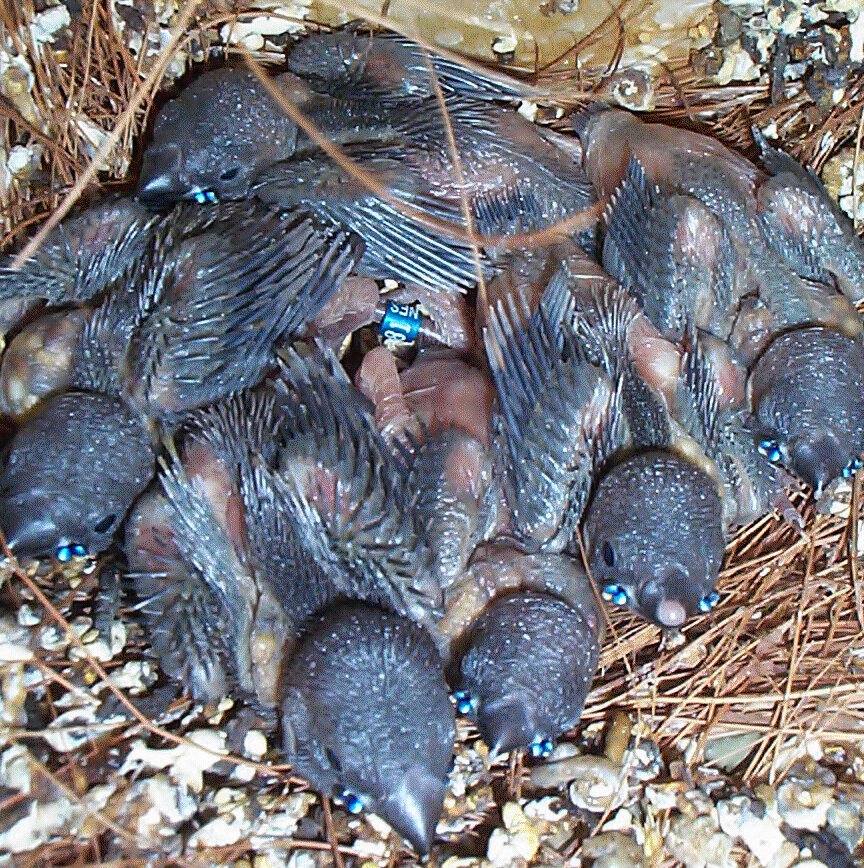 These Gouldian chicks are 15 days old. You can see that the wing feathers are almost completely out of the follicles, which occurs between 14 -16 days old.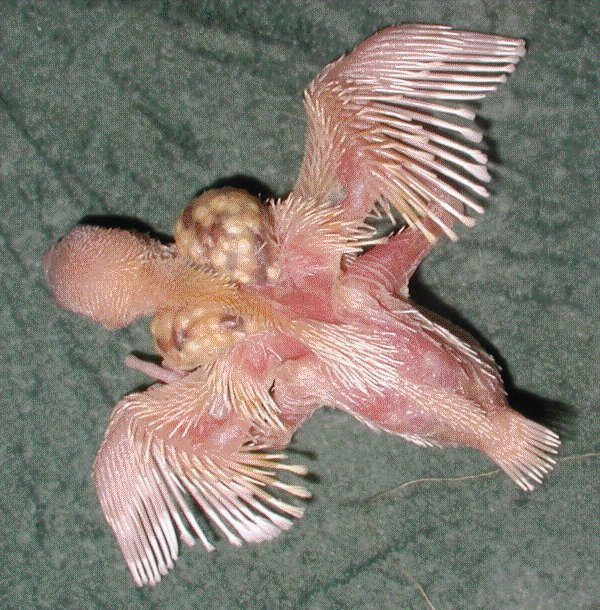 This chick is 17 days old. At 18 - 19 days old, the whole upper side is feathered. The underside, however, is still partly unfeathered for another 2 to 3 days.
Notice the light color of this hatchling. It is probably a df yellow male but possibly a sf yellow male or yellow female. More pics of him at bottom of page marked with a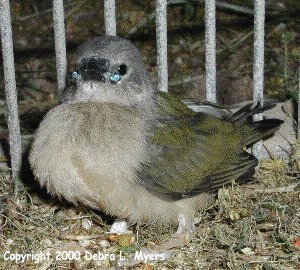 This chick has fledged. This usually occurs at 22 - 23 days old. The yound are fully feathered and leave the nest. They usally have a tough time for a day or two as they practice flying and may have trouble getting up to a perch.


Usually young hatch in the morning. Gould chicks are naked and pink at birth. The parents get rid of the egg pieces by eating them or flying them off to the aviary floor a distance away from the nest. The first chick to hatch will start begging after about its first hour. It's normal for the parents to ignore its begging calls until 3 or more chicks hatch. Don't worry, as the chick can survive for 2 or 3 days on the egg yolk. One of the keys for the parents to start feeding seems to be when there are more hatchlings then eggs left in the nest. By 2 or 3 days after the first egg has hatched the parents should be pretty actively feeding them. At 4 - 5 days old the skin starts to darken from pink to gray-blue.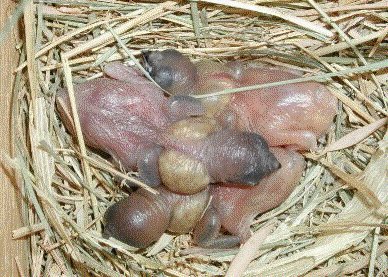 These Gouldian chicks are 4 days old. Notice how they are huddled together for warmth.
The one on the top and sort of in the middle is a blue while his/her siblings are normals. Debbie has nicknamesd this one "Barley". Notice how his skin is a pinkish-gray color.

Photo courtesy of
Debra L Myers

The chicks are blind at birth, but by about 7 or 8 days, the eyes will begin to open over a 1 to 2 day period. At this age they can sit fully upright to beg. An interesting sight, they will usually sit to beg in a row. In other words, 3 or 4 chicks will sit next to each other facing the opening of the nest. If there are 5 or six chicks, they will form 2 rows. They can now recognize their parents and will withdraw deep into the nest in fear if anything other than their parents show up at the door!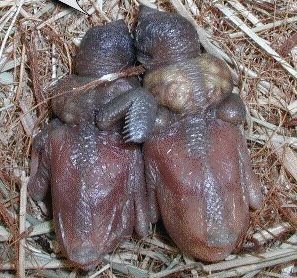 Photo courtesy of
Debra L Myers

Ok, you may ask, "How can the parents see into the dark nest to feed the babies?". There are mouth, tongue and beak markings and pear-shaped luminious (bluish) nodules on the outside angle of the beak which guide the parents. The Gouldian and the Red-headed Parrot finches have very similar markings, while other Australian finches do not have the nodules and the markings are different.

These Gouldian chicks are 11 days old. At 12 -14 days old the breast, belly and head follicles are visible. The tail and wing feathers will be breaking out of the feather follicles.

Photo courtesy of
Erin Salomaa

Photo courtesy of
Erin Salomaa

Photo courtesy of
Debra L Myers

Photo courtesy of
Debra L Myers

In the Barron's book "Gouldian Finches" the author Matthew M. Vriends speaks of the occassional early bird. I have to agree that I have seen this bird occasionally in my clutches. This nestling will position itself just under or in front of the nest opening. They beg loudly for food each time one of the parents comes to the nest. Interestingly, the parents ignore these nestlings and go to feed the rest of the clutch. Soon these early birds lose weight and leave the nest early driven by hunger. These early birds will not stay in the nest if you put them back in and must be hand fed or supplemented if you want them to survive. Be very watchful for these because they have a tendency to hide in corners, under bushes, at the edge of water bowls or food dishes etc as they can hardly fly. The parents often do not see these eccentrics and they often get neglected, weaken, starve and die of hunger or cold or drown in water dishes (it is a good precaution to remove bathing sites for a few day when there are fledglings about). One way to help these fledglings is to put perches low to the ground for them to hop on. Most will use them and then the parents will be able to find them easily to feed them.

After about 3 weeks after fledging, the goulds are pretty independent. It may look as though they are feeding themselves sooner than this, but as with most babies, they play with the food. They absolutely need to be fed by the parents (or us) for a minimum of 2 weeks after fledging, but 3 or 4 is better.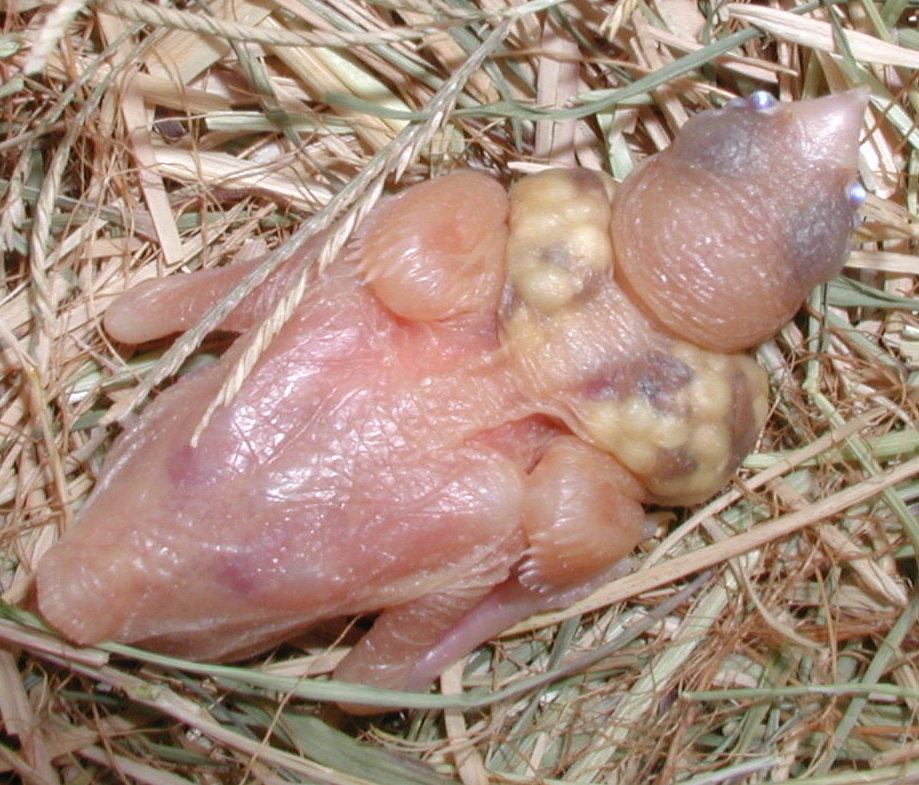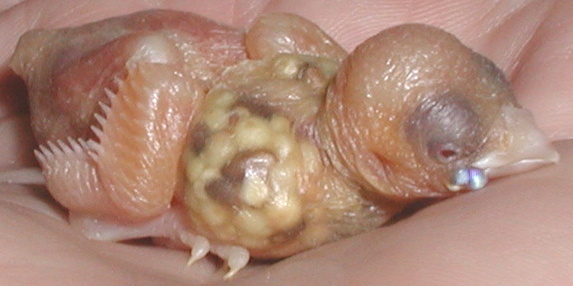 Below are two more views of "Sam" which is our yellow gould. In these pics he is 11 days old. Debbie has promised to let us know for sure if he is the df yellow male we suspect he is or if he is indeed a sf yellow male or a yellow female as soon as he molts.


Notice in the picture on the right above the light skin of "Sam", the red eyes and light blue nodules that make him different than the normals in the nest. Debbie says the other sf yellow males and yellow females she has had were more of a "dirty" yellow color which makes her hopeful that this is indeed a df yellow male.




Photo courtesy of
Debra L Myers

Photo courtesy of
Debra L Myers



experienced birds may lay up to 8. Usually both birds take turns brooding during the day with the female brooding alone at night with the male perched nearby. The eggs will not start to develop until the parents start to brood, which will usually occur after the 3rd egg is laid. After 4-5 days, you can tell if an egg is fertile by holding it up to the light. You will see the red blood vessels and a dark spot where the embryo is. Sixteen to eighteen days after brooding has begun the eggs are due to hatch. The parents will meet up more often at this time.

In nature, the legthening days and the availability of food triggers the breeding season. If the birds are interested in breeding, they will sit close together but not touching. The male will sing his little song and the female will twitch her tail. Sometimes they will fly around together checking out nest sites. The nest is built only by the male, although many goulds are poor nest builders. The first egg is usually laid 5 days after mating, with another egg layed approx every 24 hours. An average clutch is 6 eggs, but young birds often only lay 4-5 and older

Photo courtesy of
Paul Roberts
Melbourne, Australia