Sitting:
my Dad's mother, Laura V. Conely Fletcher and father, Thomas W. Fletcher Standing:
Uncle John and Aunt Maude Conley.
Circa: 1910

John Henry Conley Fletcher (my Dad) was born September 17, 1914. He was raised in the Coalport, PA area. The town where his parents lived was named Rosebud or Roseland. He was the oldest of 3 boys. His two younger brothers were: Thomas Laurence (b. Dec. 7, 1915) and LeRoy (b. Jan. 3, 1918). His mother was Laura Virginia Conley (daughter of James and Katherine Conley). She was born July 10, 1892 His father was Thomas W. Fletcher born 1890. His mom died on Feb. 22, 1920 when she was only 27 1/2 years old and my dad was only 5 years old. After his mothers death, John and his 2 brothers were raised by his maternal grandparents in Flinton, PA. Grandma Katherine died (perhaps a year or two later?) but Grandpa and his daughter Julia continued to care for the boys until Grandpa James died around 1925 and Julia left for Utah. Then they went to live with his paternal grandparents, Eliza and Thomas Wood Fletcher in Beaver Vallely, PA. My father had an Uncle and an Aunt (John and Maude Conley) who lived within walking distance. He often stayed with them as he was growing up, altenating between families until he grew up and left home.
He married Edna Agnus Wasilewski on May 20, 1939 in a church in Rahway, NJ. He has two children, John H. Fletcher Jr., born August 7, 1941 and a daughter, (Me) born July 25, 1945. He has 5 grandchildren, James and Richard Szabo, Tracey Melancon, Heather Johnson, and Laura Moses. He has 3 great-grandchildren so far, Megan and Amy Melancon and Corie Fontenot.

This page was
last updated on:
January 1, 2004






John's early years
circa 1920's and early 1930's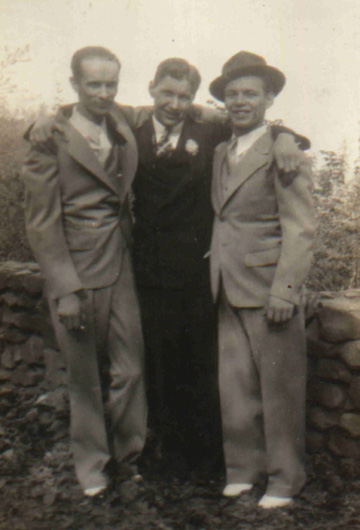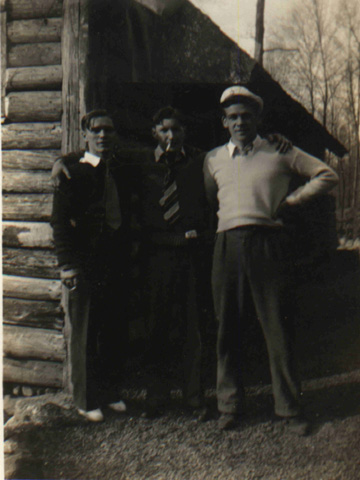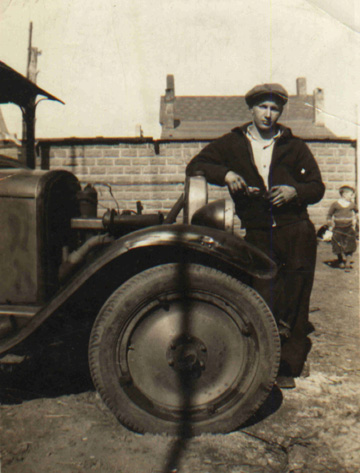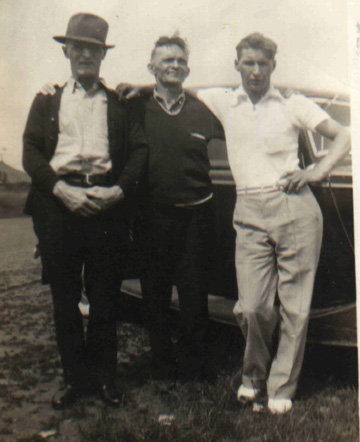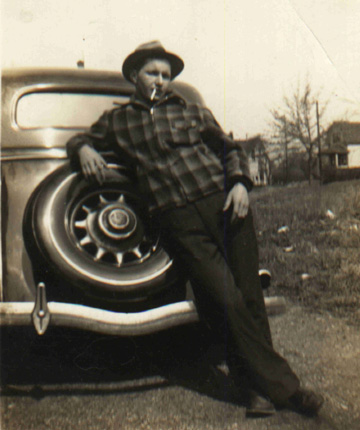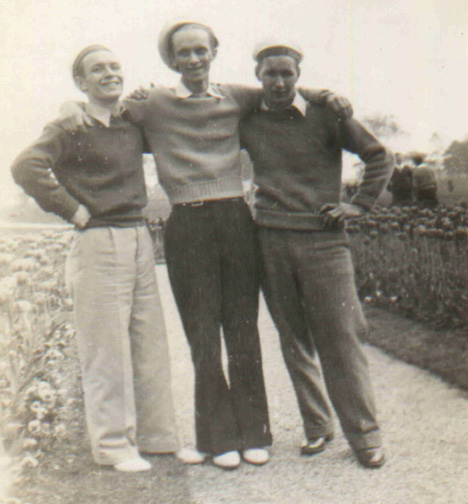 My Mom says he was
"always working on cars"

John with one of his cars.




John's Page is still under construction. Please check back often to see Jonn's Page unfold.


More photos from
John's Collection

DO YOU KNOW THESE PEOPLE?
Click below to see more photos from John's collection. If you can help identify them, please e-mail me. Thank you.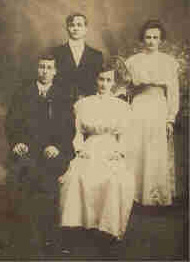 Go to
Fletcher Family
Roots Page

b. 9/14/1917 - d. 3/23/2003

John H. Fletcher Sr. passed away on Sunday, March 23, 2003 at 6:23 pm. He had fought with congestive heart failure since September 2001. He had been hospitalized for CHF for several months in 9/2001, got stronger and returned home to lead a normal life until Dec. 17, 2002. At that time, the fluid was building up in his legs and he was brought to Raritan Bay Medical Center, Perth Amboy, NJ for around a month. He was released in January and sent to The Highlands Nursing Home in Edison, NJ for rehab. He was in good spirits and able to communicate and understand his surroundings. He was there only around a week, when the Highlands said he had a nosebleed and they brought him to JFK Hospital in Edison, NJ. Although the nosebleed was bought under control immediately, they kept him for another month working on his CHF and they also said he had Renal (Kidney) failure. From the time he came to JFK Hospital, he never regained that awareness and seemed to deteriorate rapidly. After around a month, he was returned to the Highlands, but this time it was not for rehab. At this time they said he was terminal and had weeks to months to live. He was there several weeks before passing away. The viewing was at Costello-Koyen Funeral Home in Avenel, NJ. He was laid to rest on March 29, 2003 after a brief service at the funeral home, a liturgy mass at St. Andrews Catholic Church in Avenel. He is buried in St. Gertrude's Cemetery in Colonia, NJ, not far from the resting place of his Aund Maude and Uncle John. Final photos can be viewed on John's Final Page.